What and Where?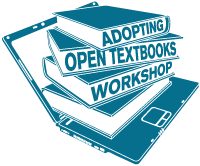 A one-day workshop for EVERYBODY interested in open textbooks.
Date: 26 February, 2013
Time: 9:00am – 15:30pm (tentative schedule)
Location: Kwantlen Polytechnic University, Richmond Campus
(Melville Centre for Dialogue)
This workshop is a organized by BCcampus in collaboration with Kwantlen Polytechnic University. There is no fee and lunch will be provided.
Description
There is a lot of buzz about open textbooks and the financial benefits to our students. However, many conversations and much learning needs to happen between now and realizing that goal. This workshop will take the first steps in that direction. Together we will explore:

options for finding, selecting, and building on existing open educational resources (OER)
processes for creative commons licensing
individual and institutional changes in practice, and
ideas for adoption and advocacy.
We will also share an update on BCcampus' s Open Textbook Initiative.
Keynote
President Alan Davis, Kwantlen Polytechnic University
Facilitators
Several individuals from BCcampus, KPU, Creative Commons, and others across across the post-secondary system are helping with the planning and facilitation of this workshop. So far this list includes:
Terrie McAloney and Sylvia Currie from BCcampus
Paul Stacey, Creative Commons
Jane Fee, Meg Goodine, and Todd Mundle from Kwantlen Polytechnic University
Adrienne Watt, Northwest Community College
Who should participate?
Are you interested in providing students quality resources to support their learning? Are you curious about what is involved in adopting open textbooks? Would you like to get together with colleagues for a full day of hand-on exploration and interesting dialogue? Do you have questions about open textbooks? Do you have expertise to share? If you answer is yes or maybe to any of these questions then you should participate in this workshop!
How to participate
Register online as soon as possible, but no later than February 22. Space is limited so we may need to close down registration before that date.
We will contact you, and also post further details about the day.
Begin writing down your questions about open textbooks!
If you need to cancel your registration, send a note to Sylvia Currie, scurrie@bccampus.ca